SaxoFox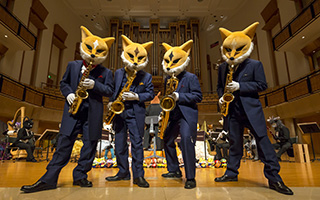 "SaxoFox" is our saxophone quartet , made up of Fox's quadrupletes.
Their names are Lature, Lafite, Margox and Mouton. No one know who is first born, so all members thought " I'm a oldest brother".
They had always been mischief, fuss and noise when the brother were together.
Their parents thought it would be help they start playing a musical instrument.
The parents said " Which instruments do you like?" So all brothers replied saxophones.
They tried to improve by learning from each other. They graduated from the music college of Medoc. Afterword they started performing solo.
They felt lonely because they played separately. One brother eventually came back home and the rest of the brothers slowly followed.
Then they played saxophone together.
Sometimes they create a fuss and still noisy, however when they perform they get along fine. Then they enjoy playing music today together.
Members
Lature

Lafite

Margox

Mouton
CD
サキソフォックス
『サキソフォックスのおまちかね』

サキソフォックス『サキソフォックスのとっておき』

サキソフォックス『サキソフォックスのお気にいり』

ズーラシアンウィンドオーケストラ
『ズーラシアン吹奏楽部!』