Claricat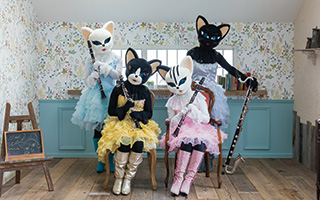 "Claricat" is our clarinet cats' quartet , made up of four best girlfriends.
Their names are Melissa, Rosemary, Bergamot and Peppermint.
They first met in the dormitory at "Herb Music college".
At first the girls were very nervous being away from home.
The girls were put into one dorm room and had to live together.
Firstly they couldn't become fast friends due to their different personalities.
Bergamot thought it's not good for us, she talked with Melissa. She suggested the members perform together as a clarinet quartet for participating a music contest in the college.
They started to practice playing together everyday and everynight. Then they became best friends and their performance became excellent. Of course they won the music contest, they became well known at the college.
After the girls graduated, they all wanted to continue to play together, "Claricat" was founded.
Members
Melissa

Rosemary

Bergamot

Peppermint
CD
クラリキャット・ことふえパピヨン
『お花畑の音楽会』

ズーラシアンウィンドオーケストラ 『ズーラシアン吹奏楽部!』