ZOORASIANBRASS
Sometimes children can't understand a great book even when read by their parents.To help understand and inspire, there is a picture book.Some years ago, most people felt young children were not welcomed to a classical music performance.
In the beginning, our company had a vision that a classical concert based on a picture book would be wonderful for both parents and children.From this vision, our concerts and musicians, creating a picture book, came to life.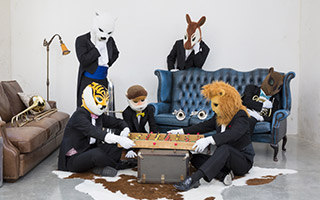 "Zoorasianbrass" our core group consisting of a brass quintet debuted in 2000.
Okapi is our leader and conductor; all other members are rare animals. Other groups "Tsuru_usagi" ,"Saxofox" and more groups play along with Zoorasiabrass, they perform as "Ongaku no ehon concert", translated means "Zoorasians' Picture Book of Classical Concerts".
Our goal is to encourage children to reach their highest potential.Please enjoy our wonderful story through music!
ZOORASIANBRASS' FRIENDS
Zoorasian Philharmonic Orchestra
Zoorasianbrass began in 2000 to encourage children to reach their highest potential.Parents with children and many musicians favor our concerts.Every year we have performed at least one hundred fifty concerts throughout Japan.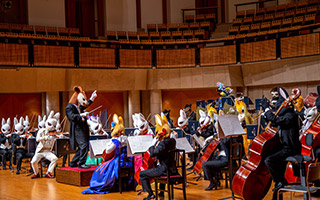 The Zoorasianbrass established a new philharmonic orchestra in August 2011. Its "Zoorasian Philharmonic Orchestra".
We are proud that our orchestra is designed for parents and children. All the members are costumed animals and symphonic nursery rhymes are our themes.
Let's open the curtains of dreams and fantasy!
Zoorasian Philharmonic Orchestra proudly participated in Disney's 2015 movie "ZOOTOPIA" for the Japanese dubbed version, as arrangement and performing "Try Everything" in the end-title roll which was included in the soundtrack album in Japan.