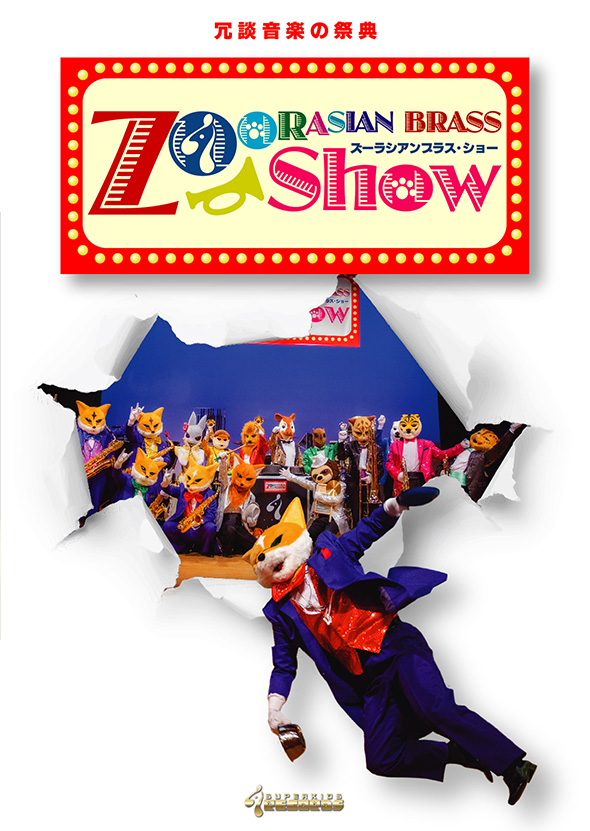 DVD
Comedy Music Festival【Zoorasianbrass Show】
| | |
| --- | --- |
| Artist | Zoorasianbrass,Saxofox,Dolhe & Sloth |
| Release | October 7th, 2020 |
| Album Number | SKZB-201007 |
| Price | 4,000JPY(Tax not included.) |
Zoorasianbrass loves comedy music and respects the very unique, talented "Spike Jones Band" who specialized in musical spoof arrangement.Throughout the world, people loved to laugh at their performance during their performance.
In Japan, first "the crazy cats" and then "the drifters" duplicated the style of "Spike Jones Band".
Zoorasianbrass realizes that laughter is an important part of music and have continued to use comedy music in their performances for the last 20 years.

Zoorasianbrass Show's theme is "Comedy Music" so come along and laugh as you listen to the live performances and banter of the musicians.
It's our pleasure to present this DVD which will make you laugh and give you peace of mind.
Let's laugh and stay positive as we try to cheer up the world.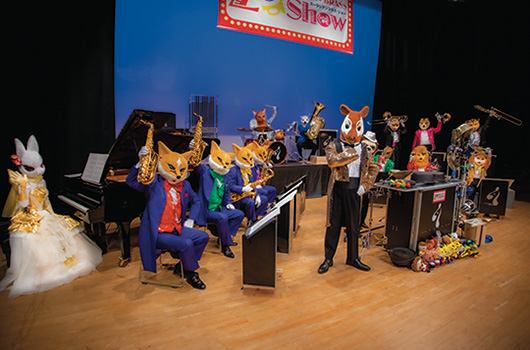 ~Eruption of Laughter~
From Zoorasianbrass's 20-year history, we chose some of our favorite comedy performances and composed new songs. Our past works include image video and live concert performances. Our performances combine comedy and excellent musicianship.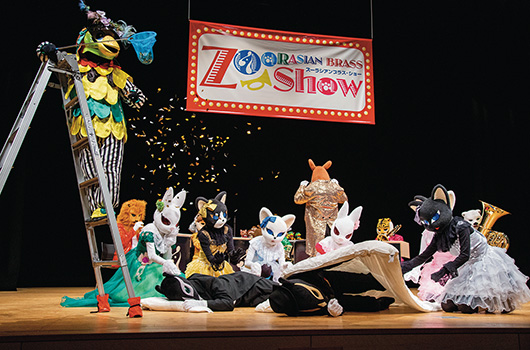 ~A partnership with our supporters on crowdfunding~
Using crowdfunding, Zoorasianbrass was able to get 879 supporters to join our new project. Unfortunately, Zoorasianbrass couldn't play to any audience since the beginning of April and it was a very challenging time to start a new DVD project.However, with the great support we had, many people joined us and we were able to thankfully meet our goal to create this wonderful, funny DVD.
LINEUP
1. Zoorasianbrass Show Theme ~opening arrangement~|Hiroki Takahashi
2.ASTRO BOY ATOM|Tatsuo Takai/arr.Hisato Yamaguchi
3.Entrance of the Gladiators|Julius Ernst Wilhelm Fučík/arr. Hiroki Takahashi
4.Mambo No.5|Pérez Prado/ arr. Toshiko Ogasawara
5.BEAR SONG|American Air/arr. Shiryu Otsuka
6.GOKVALSEN|Johan Emanuel Jonasson/arr.Ryota Ishikawa
7.Twinkle, Twinkle, Little Star|French air/arr.Ryota Ishikawa
8."Polovetsian Dances" with AWA ODORI|Borodin,Tokushima Minyo/arr. Hiroki Takahashi
9.Percussion Show Time|Keisuke Minezaki
10."Zigeunerweisen" with Deep sleep|Pablo de Sarasate/arr. Hiroki Takahashi
11."Funiculì funiculà" in Panic|Luigi Denza/arr. Shiryu Otsuka
12.YOSAKU|Kiminori Nanasawa/arr.Hisato Yamaguchi
13.Proverb Brass|John Philip Sousa,Marguerite Monnot,Schubert,/arr.Ryota Ishikawa
14.Oklahoma Mixer|American Air/arr.Kohe Nishishita
15.Zoorasianbrass Show Theme ~ending arrangement~|Hiroki Takahashi
16.Dream Fantasia for JYUSOKAI|Kohe Nishishita