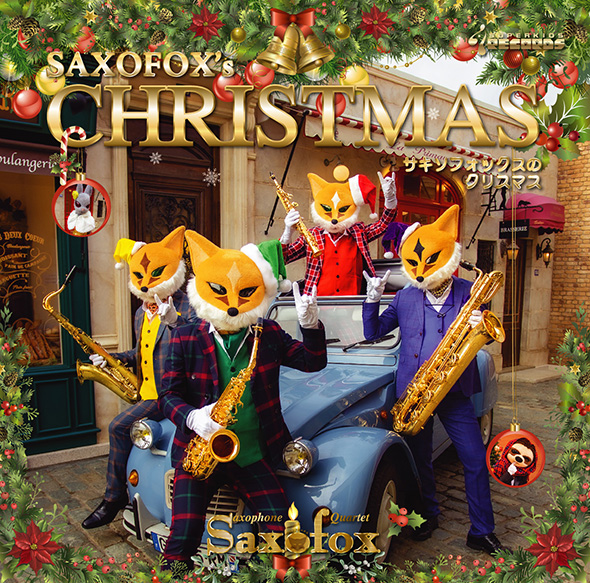 CD&DVD
CD&DVD【Saxofox's Christmas】
| | |
| --- | --- |
| Artist | Saxofox,Beth & Sloth |
| Release | December 9th, 2020 |
| Album Number | SKSF-201209 |
| Price | 4,000JPY(Tax not included.) |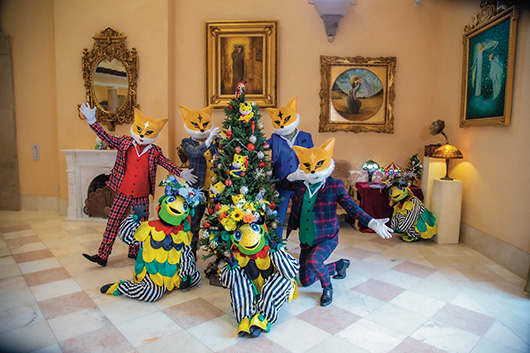 The Introductions
In this CD, our eight arrangers turned 18 famous Christmas songs into unique sophisticated arrangements.
Saxofox's profile
"SaxoFox" is our saxophone quartet , made up of Fox's quadrupletes.Their names are Lature, Lafite, Margox and Mouton. No one know who is the first born, so all members thought " I am the oldest brother".
There's always mischief, fuss and noise when the brothers are togethe. However when they perform they all get along fine. Today, they all enjoy playing music together.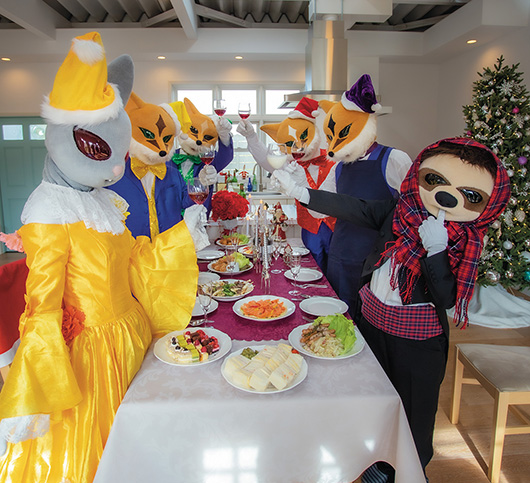 Members
Soprano and alto saxophone:Lature~~Funny and scatterbrain
Alto saxophone :Lafite ~~Fragile and careful
Tenor saxophone :Margox~~Gentle and tactful
Baritone saxophone :Mouton~~Active and dependable
~~Guest musicians~~
Percussion: Sloth; Zoorasianbrass
Piano: Beth; Tsuru Usagi
LINE UP for CD
1. Jingle Bells|James Pierpont/ Arr. Hisato Yamaguchi
Composed in 1857, this is one of the most popular Xmas songs ever.This jazzy version, has four parts, each with its own charm.The quartet really enjoys playing with Sloth.
2. Rudolph the Red-nosed Reindeer|Johnny Marks/ Arr. Natsuko Shinkawa
This song, like Rudolph himself, is cute and light-hearted. The harmonies give off a nostalgic feeling.
3. Joy to the World!|LOWELL MASON/ arr. Toshiko Ogasawara
This version, done in a smart, swinging arrangement is performed with excellence by Saxofox. The spotlight shows each soloist at their peak.
4. Silent night|Franz Xaver Gruber/ arr. Shunsuke Takizawa
We take this beautiful song and make it more innovative by including piano with Saxofox. There are five distinctive parts to this song.
5. Deck the Halls|TRADITIONAL/ arr. Ryota Ishikawa
Traditional Xmas carol feels like as carousel in an Amusement park.The song uses various beats and tempos leading to a change of feelings;French baroque dance style and swinging and more.Please pay attention to Laffite's solo.
6.White Christmas|Irving Berlin/ Arr. Hiroki Takahashi
This sentimental song leaves the image of snow coming down on your hometown. In the middle part you feel a sophisticated, mature sound. Margox's tenor sax playing is like tasting fine wine, smooth and relaxing.
7.Santa Claus is Comin' to Town|J.Fred Coots/ Arr. Kohe Nishishita
This 1934 song has been covered by many musicians. It's one of the most popular songs ever. This bouncy arrangement makes everyone feels so happy.
8.I Saw Mommy Kissing Santa Claus|Thomas Patrick Connor/ arr. Kazuya Koshino
In the beginning of this song, many bells can be heard during the slow buildup. In the middle part of the song, the upbeat increases and people get a sense of excitement during the Xmas song. During the winter season, you can hear people humming and singing this tune.
9.Jingle Bell Rock|Joe Beal,Jim Boothe/ Arr. Hisato Yamaguchi
Bobby Helms, a country singer released this famous song in 1957. This song makes everyone feel chipper and happy especially during parties. Here you can hear Mouton's baritone sax in the background supporting all the other members.
10. Angels We Have Heard on High|TRADITIONAL/ Arr. Hiroki Takahashi
The soprano sax and alto sax combine with piano to play this beautiful song. The pureness of the song feels like we are inside a holy chapel.
11. Frosty the Snowman|Steve Nelson/Jack Rollins/ arr. Toshiko Ogasawara
Frosty the Snowman, released in 1950, is a song all school kids love to sing to. Running around the snow, Frosty brings out pure joy and fun for the holidays.
12. Here Comes Santa Claus|Gene Autry, Oakley Haldeman / Arr. Hisato Yamaguchi
Here Comes Santa Claus was released in 1947 and quickly became a fan favorite. The four foxes are totally in sync and play very well together. As we listen, we are excitedly waiting for Santa's presents.
13. Twelve Days of Christmas|TRADITIONAL/ Arr. Kohe Nishishita
This song is full of joy as we prepare for Xmas.
In the DVD, Saxofox decorated the Xmas tree. Oh my gosh! ...Latour, just made a mess of it...
14. Amazing Grace|TRADITIONAL/ arr. Toshiko Ogasawara
Mouton, our baritone sax player starts playing in a funky groove.Amazing grace turns into an upbeat gospel song. The music is beyond anyone's expectations. Saxofox seem very satisfied with themselves.
15. Christmas Carol Party|LOWELL MASON,FRANZ XAVER GRUBER,TRADITIONAL/ arr. Ryota Ishikawa
Let's enjoy the Xmas party as we hear a variety of different styles.
There are five styles,"Joy to the World", fusion. "Silent Night", swing. "God rest ye merry Gentlemen", tango. "O Xmas tree", mambo. "We wish you a Merry Xmas", Broadway musical.
16. Winter Wonderland|Felix Bernard/ arr. Ryota Ishikawa
"Winter wonderland", released in 1934, is one of Saxofox's favorite songs. This song will make you so relaxed as you snuggle up to XMAS.
17. Sleigh Ride|Leroy Anderson/ Arr. Hiroki Takahashi
Leroy Anderson composed "Sleigh Ride" in 1948.
You might imagine many busy people running around in town.Sloth and Beth performing with Saxofox is most enjoyable.
In the last part "Nicker" performing with Latour is most exciting.
18. The Christmas Song|Mel Torme,Robert Wells/ arr. Toshiko Ogasawara
Xmas Song, the last song is a delicate, beautiful song performed by our tenor saxofox, Margoux.
Nat King Cole made this song famous with his soulful performance.
Margoux performs beautifully alongside of Beth, you just might fall in love with Margoux.
LINE UP for DVD
Twelve Days of Christmas
Winter Wonderland
Angels We Have Heard on High
Deck the Halls
Jingle Bells
Christmas Carol Party
Amazing Grace